Ricky Nolasco to Join the Twins
As first reported by Chris Cotillo, the Twins have agreed to terms with right-hander Ricky Nolasco. Nolasco, one of the top free agent starters this offseason, has a 3.75 career xFIP, but is notorious for underperforming his peripherals, with a 4.34 career ERA.
It was reported days ago that the Blue Jays were circling Nolasco. While the Jays have likely checked in on just about everyone, this eliminates another potential target for AA and crew.
Worth noting is that Nolasco has changed his twitter icon to that of a Minnesota Twins logo, all but confirming his destination.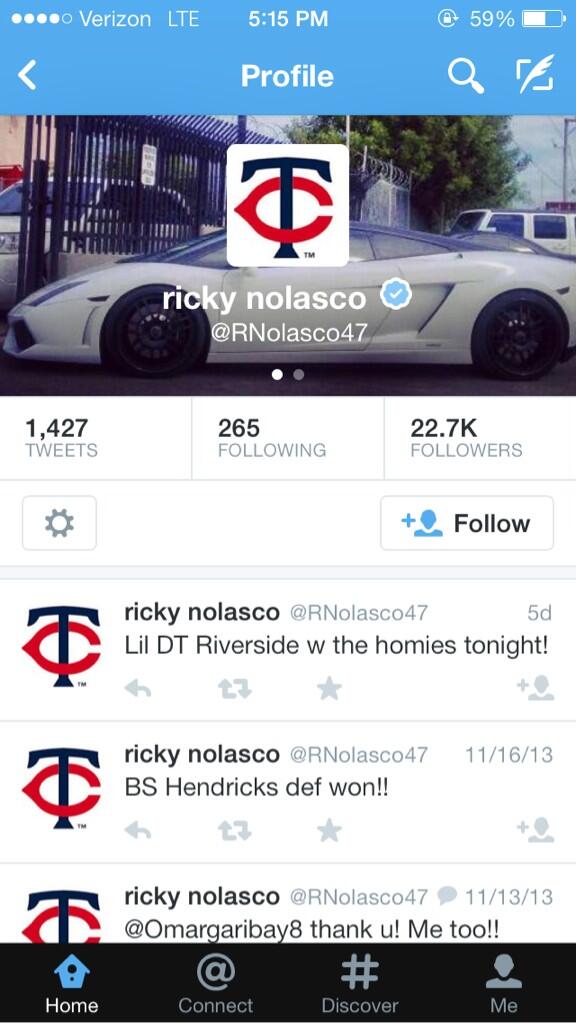 Credit to @AlexHalsted for the photo.
Jeff Passan has the financials, reporting that the deal is 4 years, $49M guaranteed. $1M of that total is the buyout on a 2018 team option.
This deal is a huge bargain for the Twins if you believe in Nolasco's Fangraphs WAR. Fangraphs WAR is based on FIP, and it thinks Nolasco has been about a 3 win true talent pitcher in each of the last 6 seasons. A projection of the next 4 years for Nolasco, starting with his 2014 Steamer prognostication, would total around 7.4 WAR including decline based on age. If a win is currently worth 7.5 million dollars, then in a world where the $/WAR inflates at 6% per year, Nolasco would project to provide about $59.5M in value for the cost of $49M. That's a comfy $10.5M surplus for Minnesota.
But Nolasco gives us plenty of reason to not believe in his Fangraphs WAR. He has pitched 1312.2 major league innings in his career (all in great home pitching environments), during which he has drastically and consistently allowed more runs than his FIP would predict. Indeed, Nolasco's career RA9-WAR and Baseball Reference WAR are about half that of his fWAR (10.3 and 10.8 vs. 20.0). If we average out his career RA9-WAR and bWAR to 10.55, and then discount his projected WAR for the next 4 years by a factor of 10.55/20, we would project that Nolasco will produce just $31.39M in on-the-field value during this guaranteed contract. That's a not so comfy deficit of $17.61M!
The Blue Jays were rumoured to be "circling" Nolasco a few days ago, and based on the available information, I am inclined to believe that they dodged a negative value bullet here. Although it's entirely possible that they were never really that interested, of course.
– Nikolai Ballevski